Finger Lakes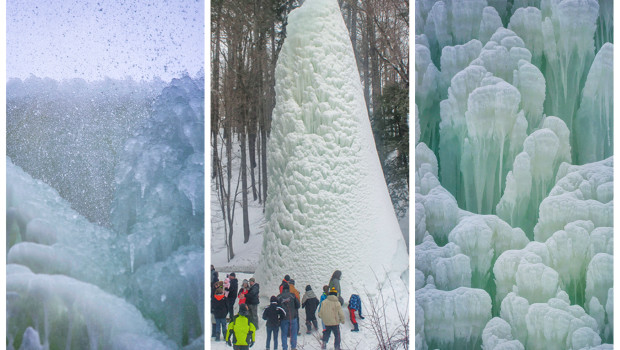 Published on April 13th, 2015 | by I Love Upstate New York
0
Ice Volcano
As the weather is starting to turn from icy blasts to balmy breezes, it's time to come out of hibernation and share more upstate adventures. While staying inside and bingeing on Netflix has its benefits going out and seeing some natural wonders can be a pretty great way to pass the time. Back in February there was a bit of buzz about an "ice volcano" that sprouted up from a gravity fed fountain in Letchworth State Park. We had to see it for ourselves, so we bundled up and headed out on an adventure we will never forget.
The "ice volcano" was fifty feet of solid ice that had formed around an active fountain, which was still shooting out of the top of the cone. As we rounded the corner and it came into view, there was nothing short of squeals of delight filling the car.
Not only was the ice volcano everything thing we hoped and more, Letchworth is very much the "Grand Canyon of the East" as advertised. While the photos help paint the picture, we recommend hopping in the car and seeing for yourself – it's well worth the trip.